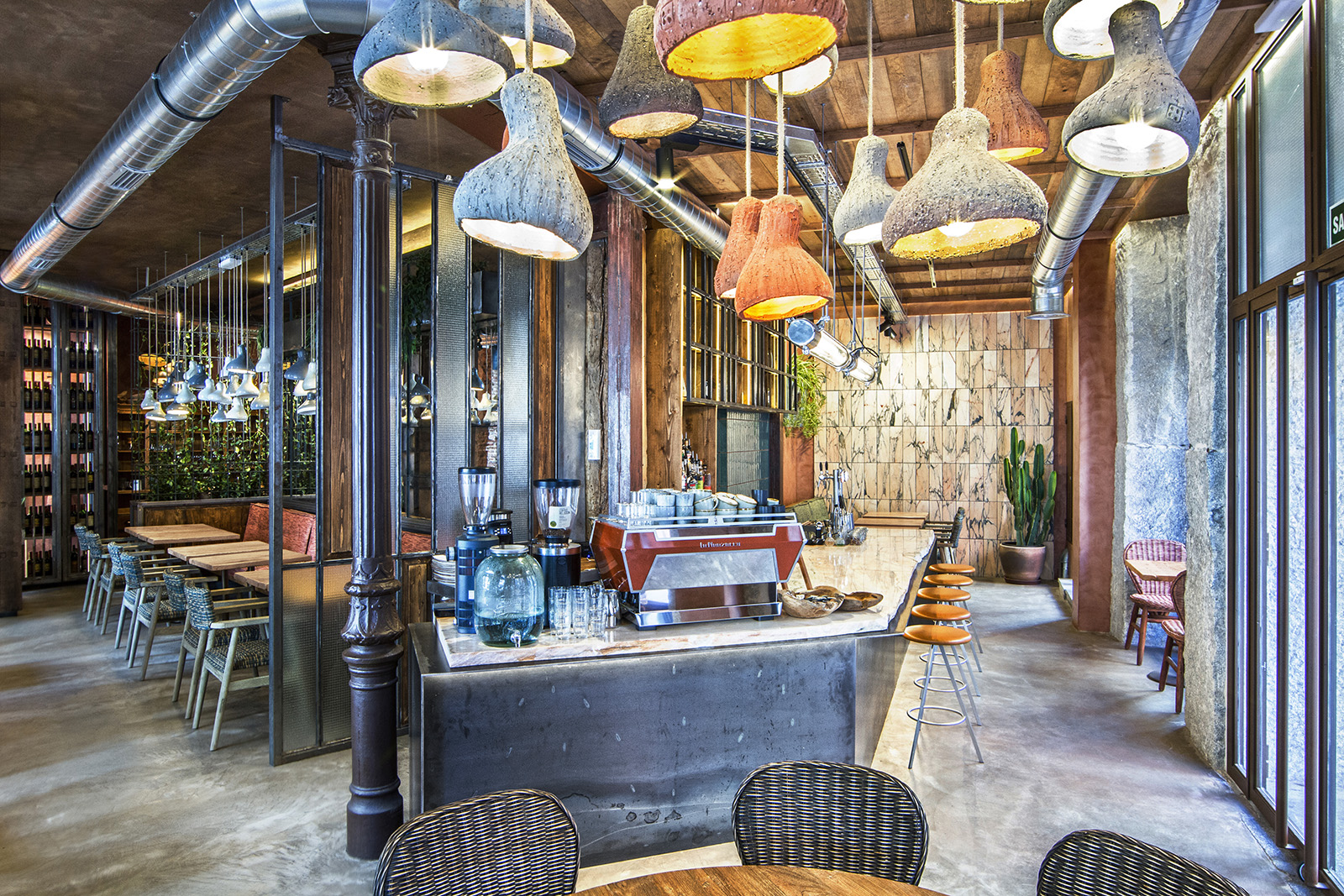 Misk`i restobar
CATEGORY

Restaurant

LOCATION

Madrid, Spain

TOTAL AREA

​​​​​​​216 m2
Concept
In Quechua Misk'i means 'tasty, delicious'.

Misk'i resto-bar is situated on the ground floor of an old building in the Malasaña district, a lively historical, cultural and tourist centre of Madrid, 200 metres from Gran Vía avenue.

In the beginning, there was a typical Madrid bar from the eighties: a narrow corner space with a high bar, low ceiling and small windows.

The designers have decided to clean the space from everything superfluous and return it to its original appearance. The XIX century granite and brick walls were freed from decorative marble and wooden panels and a thick layer of plaster. Thus, the designers got an ideal basis to merge modern urban and natural concepts. The ceiling hiding the pipes and wires was deconstructed, and the new conditioning system was left open, adding height to the premises. New high metal windows, open wide in good weather, let inside lots of light and air.

The interior is full of tropical plants. The colour scheme of this multi-layered space consists of comfortable to the eye natural hues, terracotta walls, and ceramics visually support the newly visible brick wall. The furniture and other elements of the interior are made of natural materials - wood of local traditional and exotic varieties, naked metal, a marble slab with the live edge as a low bar, micro cement, glass, plenty of handmade ceramics, custom-made marble wall tiles and custom painted ceramic wall tiles.

Most of the furniture is of Yaroslav Galant design, the rest was purchased from European manufacturers. In this cosmopolitan interior, you will also find some vintage pieces from different countries. For example, a massive cupboard found in an auction in London got a new life as a capacious waiter drawer. Old industrial lights above the bar were brought from Germany. English bar chairs Tri-Space Stool by Terence Woodgate and John Barnard (Formula 1 cars' designer) visually support the LaMarzocco KB 90 coffee machine, whose exterior was inspired by the 70s sports cars. The colour of the casing was custom-made according to the colour scheme of the interior.

The designers managed to save the ancient marble staircase leading to the lower level of the building. The old railings were deconstructed, and in their place now, you will find high wooden racks, some of which are used to store wine. On the lower level, there is a spacious room with long wooden tables for group meetings.